Who are we?
Have you ever wondered how you can do voluntary work in Romania, a country in which non-formal education and social activities are almoust inexistent ?Maybe you want to get involved in european projects but you do not know what this means or who to ask.We are "Creative+" organization,a non-governmental organization which promotes non-formal education and interhuman relations as an answer to the classic educational programs, which are exceeded by the speed our world evolves with.
What is an EVS project
An EVS project is a program supported by the "European Voluntary Service", which involves sending a number of volunteers from one country to a "host" organisation from other country.The projects last from 2 to 12 months and have numerous themes such as:art, culture, education, activities with youngsters or with elders, IT, etc.The projects are funded by the European Union, paying for the transport, the meals and the housing.Such a project is 100% free for the participants.
The First EVS project in Constanta, hosting 4 volunteers
In the first project from the city by the Black Sea, a team of 4 volunteers from Ukraine, Armenia, Austria and Spain spent 2 wonderful months doing activities with children in Agigea, , School 29-Mihai Viteazul and Decebal Highschool, learning kids about emotions and emotional intelligence through drumming and team-working activities.
Educational activities for the community
The volunteers prepared workshops for pupils and students, for kids from schools or for those with fewer opportunities, organizing and taking part in multicultural events, speaking about their cultures.
         "Two times a week, we were going to a primary school.First time,we were only participating in classes, but soon enough we took the problem in our hands. At the sport class, we did activities and developed special games thought for children."-Mykhailo Fedoras-Ukrainean volunteer
         "In those two months we have presented our countries to all the children in the school"- Miriam Diaz-Spanish volunteer
         "Once a week, we were going to Agigea center where we worked with many children with problems, and at Decebal Highschool, where we helped at the establishment of a debate club."-Anna Koch-Austrian volunteer
Educational activities for the volunteers
The volunteers discovered Romania through the eyes of the children they worked with, having the occasion to discover the history and the culture of our country.They developed pedagogical skills and had the opportunity to improve their English, but also to think about the ways they could implement such a project in their countries.
"I always wanted to have a person with whom i could speak English every day in order to improve my vocabulary.I developed pedagogical skills while doing my job."- Anna Koch-Austrian volunteer
"In Agigea i thought about the future.This experience motivated me to try and open a similar center in Armenia"- Mery Aghajanyan-Armenian volunteer
"In Romania I understood what it means to be responsable and spend your money carefully."-Miriam Diaz-Spanish volunteer
The relations with the host organisation
We tried to offer the best experience to our new friends, as well as destroying the myths about romanians and Romania.We are aware that it is hard to stay 2 months far away from home and we tried to give them memorable memories.
         "The organisation was wonderful.With our admirable coordinator and the romanian volunteers, we became an unity, even a family."- Anna Koch-Austrian volunteer
         "When we needed something, we called them and in the next moment they were at the door.They were so kind that sometimes i forgot i was far away from home and family"- Miriam Diaz-Spanish volunteer
         "We hadn't our families with us but i am sure we can say that we formed a new family.I am really happy that I established new friendships.They are the best" -Mery Aghajanyan-Armenian volunteer
Free time
After the programmed activities, the volunteers had free time in which they could do whatever they wanted.They discovered the city, went in a tour of the Old City Center, went with a boat in the Danube Delta, had intercultural nights in which they presented their countries and their cultures
         "At first we went to the District Art Festival, where a lot of actors presented their culture.It was marvelous."- Miriam Diaz-Spanish volunteer
         "Very often we organized parties for which we cooked delicious food." -Mykhailo Fedoras-Ukrainean volunteer
         "In Romania we met a lot of Erasmul+ students, and every day we were planning someting to do after the activities.I had some of my best days there. [i]"- Mery Aghajanyan-Armenian volunteer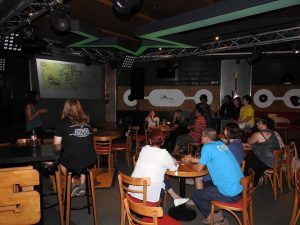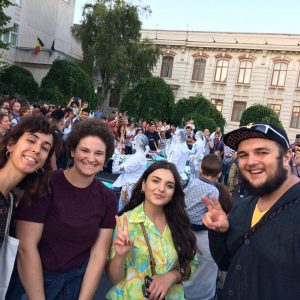 [i] All the quotes were extracted from the evaluation reports written by the volunteers when they left Constanta