by Roxana Chiritoiu
July 2019, Terrasini. When strangers became family.
It was a hot summer in Sicily when 36 complete strangers from 6 countries came together, each one of them looking for something.
Some of them were looking for friends, some of them were looking for fun, some of them were looking to learn and some of them were looking for love. But were they going to find all of these things on one island?
There was Briana, the Romanian girl who was looking for the acceptance that she was unable to find back home.
Then there was Kano, from Greece, who wanted to feel like he mattered, like his work was relevant.
We also have Noha, a Parisian boy on a quest to find true love.
For Rado, a sweet Spanish girl, the challenge was to disconnect from her problems and find mental peace.
Mony, from Bulgaria, wanted to gain a sense of independence, since he would turn 18 during these ten days.
Valerio, from Italy, was looking to create meaningful connections with people.
Big goals to achieve in just ten days, right? We are now at the end of these ten days and the outcome is as it follows:
Briana is one of the most popular people in the group. She is not only accepted; she is truly valued.
Kano feels like his efforts are seen and his work – worthy of respect.
Noha got to experience more love in ten days than some people do in their entire lives. He fell in love with a beautiful girl and they are excited to see where life will take them.
Rado managed to fully disconnect from her problems at home and, through distance, gained clarity on how to solve them.
As for Mony, he feels like these 10 days really turned him into an adult, not only age-wise.
Valerio did not just make friends. He now has an international family made out of people from Romania, Bulgaria, France, Greece, Spain and Italy.
Even though they all want such different things, there is something that all of them have in common. Deep down, they are travelers, beings who were made to explore the world and be in a permanent search for something more. Terrasini was one chapter in this incredible story called life.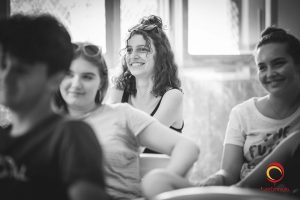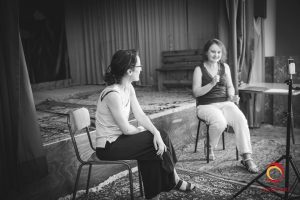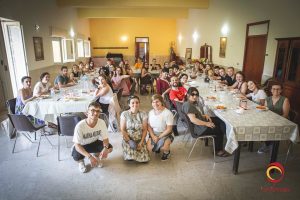 *Names have been changed.
Paladin Travel Youth Exchange is a project financed by European Union through Erasmus+ Program. It was held in Terrasini, Italy between 2nd and 12th of July 2019. 36 participants came from 6 countries to discover more about non-formal education and experiential learning, doing theater activities.